Our conference center and outdoor pavilion, with hotel-like accommodations, are well-lit, spacious, comfortable and well-equipped with modern conveniences for effortless meetings. Wireless connections and free Wi-Fi access are available throughout the center. Large screens for audio-visual presentations are available in the two large conference rooms. High-tech conference call equipment also is available.
See 2022 rates below:
Bishop Thompson Room
$300 / Day
Located in the Thompson Lodge, the Bishop Thompson meeting room can accommodate up to 150 people.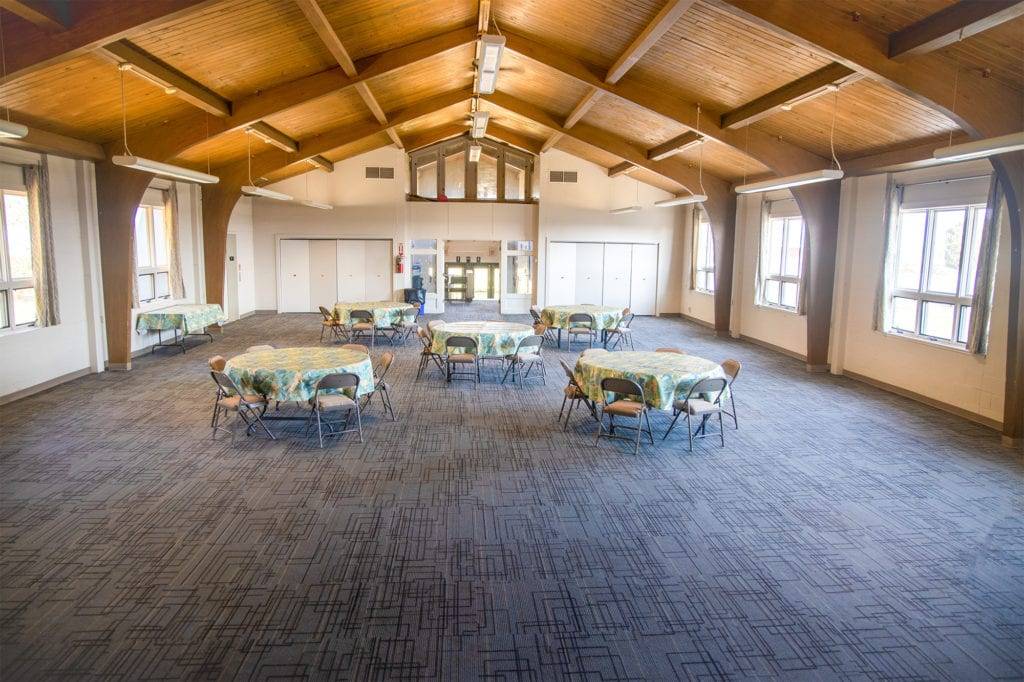 Bishop Hobson Hall
$300 / Day
Located in the Thompson Lodge, Hobson Hall is a great multipurpose space providing an additional large meeting room with a stage and accommodating up to 300 people.
Bishop Price Pavilion
$500 / Day
Our newest meeting space offers a unique outdoor meeting experience. The Pavilion has a spectacular view, electrical outlets, evening lights, a stage, and is directly off our Sports Court, which is great for team-building activities.
Beverage Service
Up to 20 people: $25
21-50 people: $50
51+ people: $100
Over 100 people: Call for Pricing
Media Equipment
Robust video conferencing capabilities. The center provides enough bandwidth and Wi-Fi for multiple meetings. A/V equipment, easel/newsprint board, white board, DVD/Blue Ray player and overhead projector are all available upon request. Small fee for certain equipment may be needed.
Start planning your meeting with us! Complete this contact form.