Gathering and Worship
Christ Chapel
Christ Chapel's award-winning architecture offers a serene and peaceful view of the lake. This beautiful worship, parish retreat, and private prayer space provides seating for up to 150 people and has a fully equipped sound system.
Christ Chapel is often used for special diocesan worship services, but may also be used for worship during church retreats (for example spiritual retreats, vestry, or mission council retreats). The Chapel may also be used for worship by other groups that hold meetings or retreats at Procter such as congregations and committees of other denominations. The chapel may also serve as the setting for a memorial service. Additionally, Christ Chapel at the Procter Center is open for private prayer and meditation.
The Labyrinth is located west of Christ Chapel, near the main entrance. A key feature of the design is a four-foot-wide crushed rock pathway, making the labyrinth wheelchair accessible. The labyrinth at Procter provides a quiet space for contemplation as one slowly moves to the center of the labyrinth and out again.
The construction of the labyrinth was made possible by a generous gift commemorating the retirement of the Rev. Pierce Klemmt, a priest raised in our diocese.
The Outdoor Chapel sits high on the hill and overlooks the lake, woodlands, and surrounding farmland. It has a fire pit and a cross which are used for a campfire and evening vespers. Our senior high campers built and maintain this beautiful addition to Procter. It provides a peaceful setting for meditation and prayer.
Christ Chapel
The Labyrinth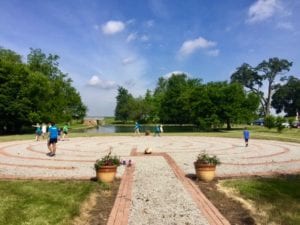 The Outdoor Chapel
Creating the Christ Chapel Labyrinth
I have always loved the beauty and simplicity of the Chapel at Procter for formal worship services and for private prayer, at any time of day!