Dining at Procter Center
Dining Hall
Dining Hall and Food Services
Our Dining Hall is located in the Thompson Lodge. Walls on either side of the room provide beautiful sites. The east-facing wall is floor to ceiling windows that lookout to our native flower habitats and 10-acre lake. The west-facing wall is also a row of windows, that are able to open, to old-growth trees as the backdrop. During the spring, summer, and fall, the foliage gives you the feeling of eating outdoors, but with all the comforts of being inside.
Dining Hall set up:
Round tables of eight provide seating for

125 comfortably, and

Up to 175 at full capacity.

Larger gatherings, additional table arrangements can be made. 
Meals:
We work with you to create the best menu for your event. All of our meals are made from scratch and prepared by our dedicated staff. Meals are served cafeteria/buffet style with a hot and cool bar. Dessert is always on the menu! The food is wholesome and delicious, and much of it is grown on our six-acre organic farm. 
Beverages:
Coffee and tea are always available in the Dining Hall, but we are happy to also set up a meeting room beverage station at your request. Please place this order during booking.
Dietary restrictions:
Upon request, specific dietary needs (gluten-free, dairy-free, vegan, vegetarian) are available, as well as flexible meal-times, to best fit your guests' schedules.  We will make every attempt to accommodate your special dietary needs. Please contact our Guest Services Manager, Robin Kimbler, at 740-206-2036 or info@proctercenter.org.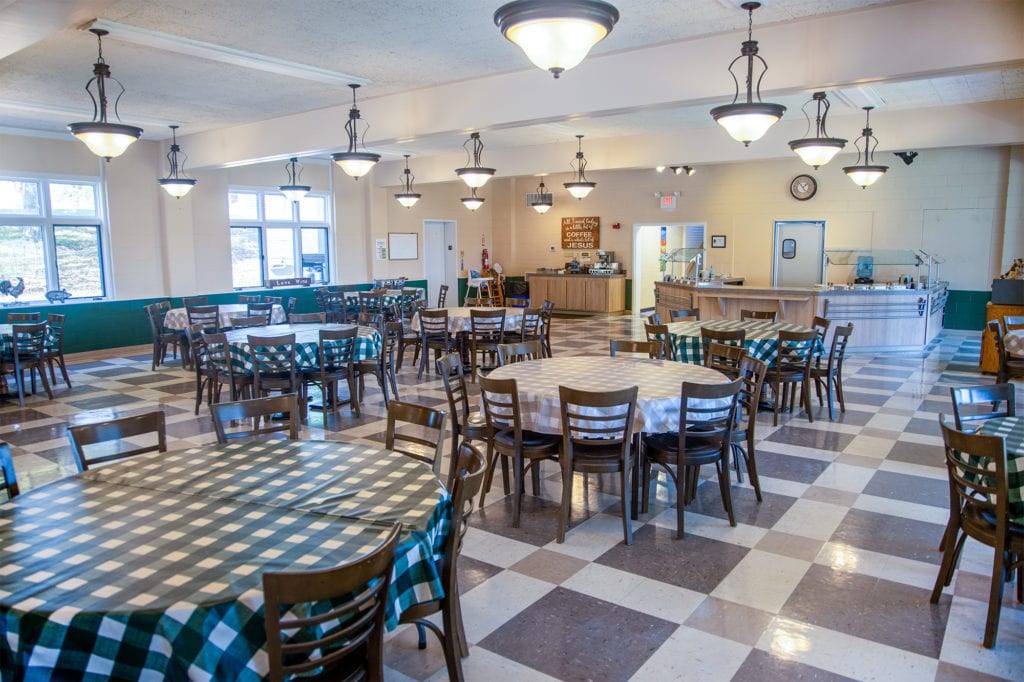 Have a group of 10 or more? We offer food services for your stay!
See 2023 rates below:
Breakfast $15
Start your day with a hearty breakfast, whether it be scrambled eggs and bacon or pancakes and sausage.  Oatmeal, yogurt, fresh fruit, and juice are included at every breakfast.  We will help you design a breakfast that fits your dietary needs.
Continental Breakfast $12
A Continental Breakfast is a perfect way to feed your meeting participants!  Let us prepare a tray of tasty pastries and bagels.  We will include fresh fruit, yogurt, and juice.  Vegetarian, vegan, gluten-free, and diary-free options are also available.
Brunch $18
Brunch: a little bit of breakfast, a little bit of lunch.  You can choose from scrambled eggs and bacon, a build your own sandwich bar, a salad bar, and an array of other items.  Our Foodservice Coordinator will happily work with you to personalize your brunch selections.
Lunch $18
Take a break from your event and enjoy a delicious lunch in our dining hall.  Items on the menu could be hamburgers and french fries, build your own sandwichs, taco salad, or a baked potato bar.  Every meal is served with a salad bar, homemade soup of the day, or fresh fruit, iced tea, and lemonade.  And for your sweet tooth, cookies, brownies, or rice krispie treats, will be provided.
Dinner $25
After spending the afternoon sitting in your meeting, a delicious meal is awaiting you.  Enjoy a hearty dinner of fried chicken, meatloaf, or lasagna.  If you prefer a healthy fare, grilled or baked chicken breast, or a lovely pork loin with cranberry chutney.  Meals are served with a choice of potatoes, brown rice, or long grain and wild rice, as well as a salad bar, vegetable of the day, and homemade Procter rolls.
Snack $10
Need an afternoon pick-me up or an after dinner snack?  We can provide many options for you.  Enjoy fresh baked cookies and milk, cheese and crackers, chips and salsa, or hummus and vegetables.  Our Foodservice Coordinator will happily work with you to create your perfect snack time. All snack time treats are served with fresh fruit and iced tea, lemonade, or soda.
Meal rates are subject to change.
Ready to book?
We'll help you get your meal plan ready! Contact Guest Services: